The Pyrite Problem in the West Island of Montreal
by
Team Broady
on
Monday, May 1, 2017
Pyrite is a natural mineral found in most rocks. Therefore, it can be present in the backfill (i.e. the crushed stones) underneath the concrete slab of the basement and the garage.
Damages due to pyrite can arise when certain conditions are met. The main factor is the quality of the backfill. Furthermore, when pyrite is in contact with water or humidity, it can oxidize and swell up to 100 times its original volume. Therefore, the "swelling" backfill may cause heaving to the concrete slab and partition walls resting on it. In some cases, cracks in the foundation walls around the garage may occur due to the lateral thrusts of the backfill. This should not happen to the basement foundation walls, since the backfill is normally located at the level of the footings of the foundation.

The main purpose of the pyrite test is not to confirm if there is pyrite or not, but rather to verify the quality of the backfill and the concrete slab: a good backfill will not swell or cause damages.
Damages due to pyrite in buildings started to get attention from the real estate professionals and the media in the end of the 1990s in the Greater Montreal region.
Around that time, the Procedure CTQ-M200, a formal method on how to perform a pyrite expertise on residential buildings, was established by a committee of experts such as Canadian Mortgage and Housing Corporation (CMHC), Société d'habitation du Québec (SHQ) and experienced geologists.
Since 1999, Multitest (formerly known as Pyritest) has performed over 56,000 pyrite tests. This experience has confirmed over the years that the West Island is a "risky" region regarding pyrite problems because many houses were built with poor quality backfill. If you see cracks or heaving in your basement floor or garage slab, it would be wise to have your backfill tested.
Contact Multitest for more information or to schedule a test.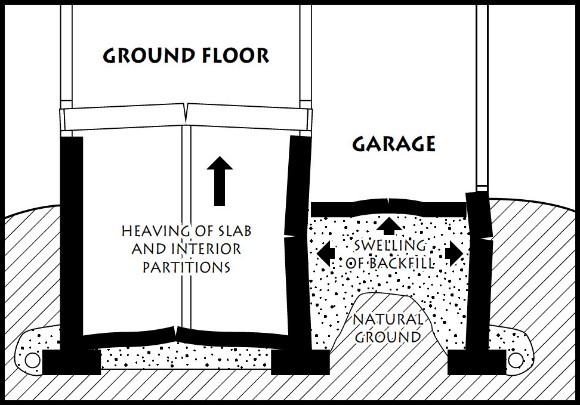 Sketch from Pyrite and Your House ®